The Campers Arrive
by Reagan Wallace
July 4, 2017, 7:00pm
First day of camp!!
We awoke this morning to rain peacefully falling from the sky onto the metal roof of the Alabama building. After a hearty breakfast of bread with butter and sausage on top and "manna," a porridge made from wheat, we met with the staff and other leaders from Latvia to prepare for the week. Before discussing any business related topics, we played a game of "Never Have I Ever." The punishment for losing was to have a plate piled high with skusanas krems, or shaving cream, put in one's face. Our very own Daniel Riggs lost the game, but Alina, who is one of the Latvian leaders, took the punishment for him because she says it is a tradition for her to have the first pie-in-the-face at camp each year. Chris then explained the Gospel tracks we had printed in Latvian to the leaders and told us about this year's camp theme, which is "Emergency Exit." This basically means that Jesus is the only way. He is our light and will guide us through life- without Him we have no hope.
After our meeting, we played cards downstairs for a while, allowing us to continue building relationships with the leaders. Then we had our yearly medical training, in which a Latvian medic taught us CPR and some basic first aid skills. Lunch was next on our schedule, and it consisted of cole slaw, chicken and rice, and fruit tea to drink. We continued our afternoon with more card games as we expectantly awaited the campers' arrival.
Once the campers checked-in, we had our first worship service of camp! It began with the cha-cha slide and a few praise songs, some of which had the lyrics written in both English and Latvian. It was beautiful to hear people singing praises to our amazing Father in multiple languages. There are no language barriers with Him because He sees our hearts and loves to hear us worship Him. Chris then described the camp theme to the students and spoke about God being light. Our scripture for the night was 1 John 1:5-10.
Next… we had the BEST American dinner, which was specially made for us because it is our Independence Day! They cooked chicken legs and French fries for us, and even made sweet tea!! It was not iced, but nonetheless, it was still a wonderfully delicious treat that we were able to enjoy. As we finished dinner, the sun came out, so we continued our evening with games outside. Then, the festivities proceeded with a picnic including watermelon, peaches, apples, and cookies. Even though we are 4,969 miles from Tuscaloosa, we felt very much at home tonight. We are so thankful for our kind friends who were so thoughtful in creating an exceptional meal just for us.
To end our day we met with the leaders once more to share about things we noticed during the day and what God is doing in our lives. We are expectant to see what all He is going to do this week and are encouraged by hearing about what He has already done for us.
In Christ,
Reagan Wallace
UNO!!! No translation needed :-)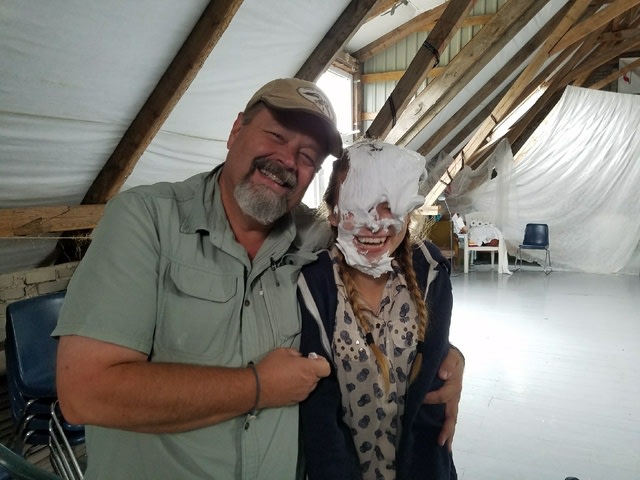 Jim and Alina - with a pie to the face!
Worship in the Alabama Building